The Definitive Guide: How to Become a Content Writer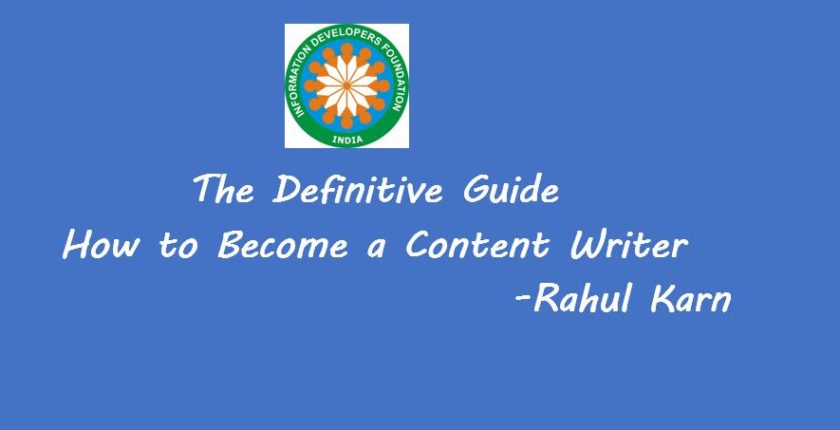 How to Become a Content Writer?
WHY DID WE WRITE THIS GUIDE?
Become a content writer- This is a landmark and comprehensive guide for the professionals and students who want to start career as a content writer.
From being a student who was knocking the door of every institute in Bangalore to become a successful professional and now  mentor i and my team have tried to answer all the questions of new comer in this field of content writing. This is a living post which we keep updating.
The Definitive Guide: How to Become a Content Writer  will guide you step by step how to become a content writer. Till now more than 10000+ readers are benefited from this definitive guide.
WHO SHOULD READ THIS GUIDE?
This guide is for students, professionals, housewife,writers in-fact for anyone who wants to to foray into the world content writers and become successful.
WHAT IS IN THIS GUIDE?
In this guide we have tried to capture all the question spilling out from the mind before starting a new career. You can read whatever section you are interested but it is advisable to read the complete guide it will help you to make informed and prudent decision.
What is content writing?

What is the job of content writers?

What is the salary of content writers?

How can i become content writer?

What skills and qualifications required to become content writer?

Which type of companies hire content writers?

Can i become freelancer content writer?
What is web content writing?
Most of us are capable enough to express what we know and add value to the others life.
When you share and write your expertise on the web it is called as web content writing.
Content writers help readers to take decisions, make them aware, help them to do certain task through the content.
Content writers write comparative study of products which help user to take decisions, they make user about new products, service,initiative etc. Content writer also write how to guide which can help you to fix your issues.
Content writing is a career where you can utilise our knowledge and time to make money and that without much pressure at work.
Let's first have the clarity on what it is all about.
What is the definition of the Content writer?
Common Definition:
A person who writes search engine optimized (SEO) online content and provides relevant information about any specific topic on different websites, to meet the goals of stakeholder.
A content writer writes a content after research and designs it in a way to reach to the most relevant audience. As a content writers you writes for websites, whitepapers, blogs, and social media posts etc.
It is necessary content writer should have growth and agile mindset. Market is changing dynamically and so writing style and SEO skill. You need to experiment with the contents to make it more useful and shareable ultimately viral. In short, keep learning and earning.
Viral content is outcome of good,useful, and shareable content- Rahul Karn
In the next section we will see the different type of content.
What are the content writer's primary jobs and responsibilites?
A content writer's primary job is to write a compelling content that can drive relevant traffic to the website and result in increasing the visibility and finally sales.
A content writer has to do extensive research to collect the correct information before publishing it to the audience.
This research also helps in collecting the necessary data that boosts the value and of content and make it trustworthy.
A content writer needs to be well aware of the topic and domain so that it can be easy to convey the in depth message.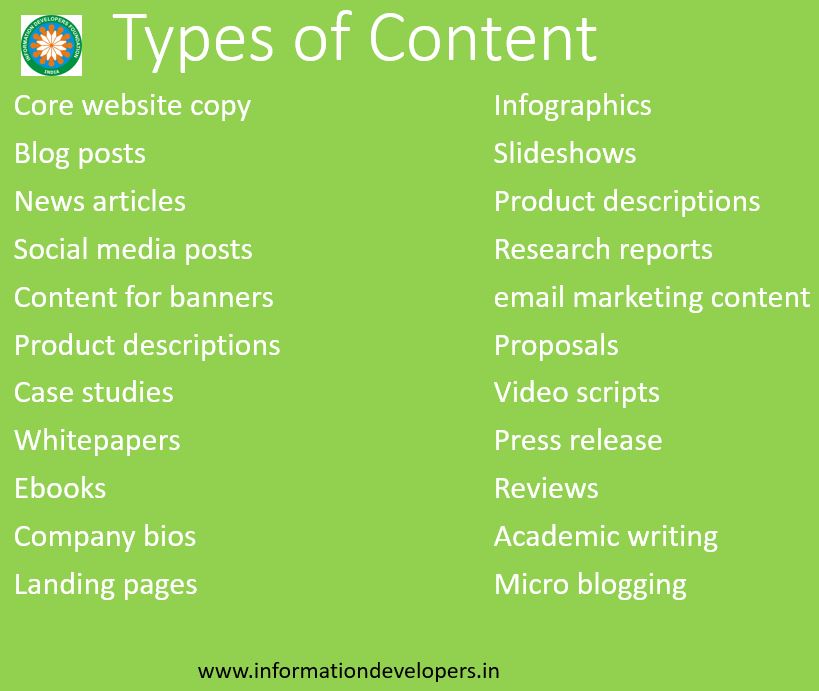 Typical job and responsibilities of content writers
Write compelling SEO friendly content using relevant keywords which can drive organic traffic and subscribers and generate intrest genuine interest in the brand.
Regularly write various content types, including marketing emails, social media updates, blog posts, guest post,and white papers.
Promote company content on different platform like social media, directory submission, commenting on similar post, submission on different content aggregator, press release portal etc. and helps in brand building. Although this is not always expected from content writers.
In depth do editorial review of peer and give constructive feedback.
Research for keywords and writing content around that keywords.
Create and maintain editorial calendar.
Collaborate with different stakeholder to create effective content strategies.
Provide inputs for content marketing.
Senior content writers also develop in house style guides.
Mentor junior writers.
Content Writers Jobs Titles
Content Writer
Senior Content Writer
Lead Content Writer
Content Strategist
Marketing Content Writer
Web Content Manager
Content Development Specialist
Many content writers also change profile from content writing to technical writing. 43% of technical writing student of IDF was content writers. You can know more about technical writing on our website.
Educational Qualification to be a Content Writer
Writing is an art and art do not need college degree but unfortunately many companies only allow college graduates to apply for the role of content writers.+
Mass communication,journalism,  and English graduates students are more preferred.
What skills do you need to become a content writer?
To become a content writer certain basic skills are compiled that are crucial.
Skill 1-Impeccable language and writing style
You can do content writing in any language of your choice but most important skill for any writer  in any language is grammar and writing skill. It should be impeccable to be a successful content writer.
Also pay attention for any typos or poorly written sentences.  Remember that your brand has a personality of its own.  Good writer who can capture the appropriate tone and create content that will resonate with audience.
Demand of regional language content writer is all time high in India because of almost free internet. New added internet users are 90% are regional language speaker and they want to consume content in their native language.
You can learn few tools which can help you to correct your writing like Grammarly, it's free and premium version are available.
Consider learning other tools used by content writers.
Skill 2-Choosing a niche and domain that you are comfortable in
It is always easier to gather information and data for a content that you are familiar with.
A topic where you seem to be clueless can make you more confused and you are definitely going to pass this on to the audience.
Niche and domain should be chosen carefully. This will help you in writing the relevant content with proper supporting data.
A self-understanding of the topic makes you more confident while writing and gives you the fluency you need to write. Just like writing your resume versus writing other resume.
It also increases your interest in writing the content that results in a masterpiece content.
If anyone will ask me to write about bitcoin i will have to put much more effort to write at the expert level and ultimately audience will not find my article valuable.
Skill 3-Audience analysis and making connect with words
Audience analysis is one of the important aspect of writing. Even before writing a single word you must be clear who is going to read your content and why.
Doing correct audience analysis many techniques are available to use them effectively is an important skill which you must master to become a successful content writer.
Knowing your audience helps you to connect with them. Your chosen data and examples can have a relevance if you know who is going to read it.
The terms you use in your writing is related to the audience and their intellect.
If writing for doctors you can add medical terms to connect genuinely.
Knowing the audience determines the level of your writing, tone of your writing,depth of your writing, the words you use, the examples you choose and the relevance to the topic.
If you are capable of connecting to the audience you will automatically get connected and trusted by your audiences.
Skill 3-Use of keywords is also a necessary skill for a content writer
Nobody like to write or speak in vacuum. Every writers want to be read. If you want your article is searchable most important thing you have to do is use correct keyword.
Content writer should have the basic understanding of Keyword relevancy and keyword density practice and should also be familiar with keyword placement and other SEO best practices. Like you must use your keywords in URL, headings,meta description etc but be cautious do not over do it.
Using the keywords correctly increases your web visibility.
It is very important that what you write reaches it to the correct audience when they look for it. Keywords are a very helpful tool in doing this and so it becomes critical for a content writer to identify the correct keyword and use it accordingly.
Skill 4- Writing quality and deep content
A content writer should write quality and deep researched content and be consistent with the content quality this helps in brand building.
Quality content packed with useful information and correct data establishes you as a brand.
It is the quality that compels the reader to wait for your next content and give your reference.
Once you establish as a brand you will fall short of projects.
Skill 5- Time Management skill
In corporate world we always trade for time and money. Writing in the given time-frame is also a skill that keeps you at the top.
When you write within the time limit it shows your commitment and command over the subject. Any employer prefers committed person as an employee.
Valuing the time will make you more wanted in the market and delivering at right time gives the perfect result. To effectively use of time you can chose to learn Pomodoro Technique, overcome procrastination etc. Good tying speed can also give you edge and help to earn few extra dollar.
Skill 6-Researching skill and proficient in use of search of engine like Google,Yahoo, and Bing
Is an important factor when it comes to content writing. When we are writing about product or feature we can interview client of subject mater expert for the inputs but when we are writing on some new or general topic then our researching skills comes handy.
A good content writer should know how to research a topic.
Filtering out the correct data and information from the web is an art. We should go through the relevant and authentic platforms to collect the materials to feed the content. The research adds quality as well as quantity to your content.
Is becoming a content writer difficult?
Maybe not!
If you are going through a proper training and equipped with all the necessary skillset, it is not difficult. A good grammar is mandatory.
Write good, research good, use the keywords, connect with the audience, write relevant content, feed data, refer examples and place it at right place- and there you go.
Information Developers Foundation provides most advance content writing course. You can enroll for it.
Are businesses actually hiring content writers?
India is cost effective center for most of the MNCs. We curate best content at best price. Since Google start giving emphasis over long and good content most of the content work is coming to India. Worldwide also demand of content professionals are increasing.
Also, content marketing is becoming more popular because of low cost and high return. Now the attention of public is on smartphone they consume content from smartphone rather than TV so for advertiser it is sensible to spend more on content marketing rather than any other medium.
Content strategist is one of the hot job in US with salary of $73,000.
In the digitalised world most of us all are dependent on the web for any solution. The web is full of content and so there is always a requirement of content writers.
Businesses need them to reach people and spread awareness. Not only online but offline businesses too need content writers for the documentation, advertisement, product reviews etc.
What is the average content writer salary?
The earnings can be pretty high if you are good at what you do.
The salary also depends on your brand value you have created. A quality content and the number of projects you take determine your earnings.
Let us see what different job websites are showing:
Images are taken from Payscale, Glassdoor, and LinkedIn.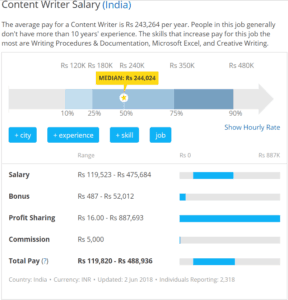 Hey!
Stop!
Don't stick to this data only. There are various ways for a content writer to make money if you are good at marketing.
A good content writer can earn through blogging and be a social media influencer too.
A good content if monetized in a systematic way can get you heavy rewards.
Companies hiring content writers
Content writers are mainly hired by all the companies. Content writers also work for the media agencies and PR houses.
In the above image you can see the name of top companies hiring content writers with numbers on LinkedIn, actual number will be much more than this.
How to find job as a content writer?
Step1- Create a kick ass resume
Make sure to write a error free resume. No formatting or grammar error will be tolerated from a writer. Exclude useless information like objective, useless personal details etc. Use keywords in resume also.
Do not forget your resume and emails are sample of your work.
Consider reading STEPS FOR CREATING RESUME
We highly recommend to take a premium membership of Naukri.com to get job opening.
Step2- Create a work sample
It is very common in interview to ask for work sample. If you have a blog or any publishes article consider to give it link in resume. If your work was confidential then try to make a sample work separately.
As a content writer it is good practice to maintain a blog. Consider to start your blog today. You can also guest post on this blog,  it will give you great viewership,backlink to your website, establish your authority on the subject which will give positive signal to your employer.
Step3- Join professional course
Learning is a continuous process. It's simple.you can learn by yourself all the skills listed above free from the internet. Else,
Join a most comprehensive course designed by our panel headed by Rahul Karn from IDF.
I might seem to be advertising but it is the best way to be a content writer if you want to take it as a profession.
You may be a good writer, but if taking it as a profession, you must be aware of the terminologies that determine a good content writer.
SEO, readability, parallelism, long tail keywords, plagiarism etc. are the words you should be well aware of.
Remember, you are not the only one writing contents, and to stand apart and compete you should know the knack of getting traffic.
Through a course, you will be aware of the necessary composition of a content, the tone, the trigger points of reader that compel them to read your content and take necessary action, the use of keywords, how to take up a project etc.
A proper training helps in diving deep into this profession getting you the desired result.
Above all you will have community and member on which you can bank any time.
Starting as a freelancer Content writer
Content writing is one of the most available freelancing work on most of the site like upwork or freelancing.com. You can register and start getting work.
Initially you may get low hanging fruits at the cost of peanuts  but eventually you can do decent earning and live a boss free life without any hassle. Initially, time and cost estimation can be nightmare but you will learn and master it in after couple of projects.
You can also direct approach companies with your own content writing freelancing resume to get freelance work and you can start. Freelancing has it's own challenges and pitfall.
Conclusion
I hope all your confusions regarding WHY & HOW  TO CHOOSE CONTENT WRITING AS A CAREER? is clear now.
You can follow your passion of writing and work from your dream location. Do you really want more than this
What are you doing then.. pick your pen and let it earn money for you?
If still in confusion feel free to call or whatsup me on +91 7840841999.