10 Quick tips to success as a freelancer in content writing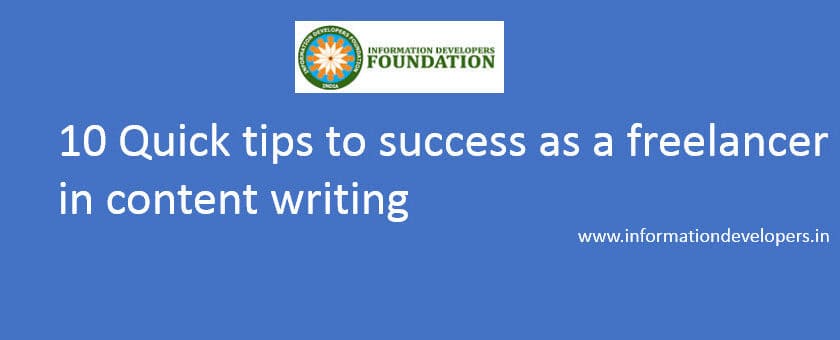 Freelancing Content writing
Freelancing Content writing is one of the most rewarding areas for the writers and also challenging.
Almost everything on the internet is related to content. Organizations are investing a huge amount to get a good, relevant, fresh, and unique content idea.
And why they shouldn't?
I mean, it is the content that decides your online brand presence, customer experience and which ultimately leads to revenue.
With time being one of the factors, it is important that content writing evolve. For the evolution of this
field, the writers too need to evolve.
Unfortunately content is king but content writers are poor (read underpaid).
Most of the writers fail to get a promising career in this field. They fail to do so because they start seeing that too much of effort is needed as compared to the payout.
Every day I get many calls from agencies asking for exceptional content writers at the price of peanuts.
If you think you can do wonder with your words, you can write the article and sell them, believe me, you can make fortune for yourself which you cannot do just by doing a 9-5 job. Definitely, a job has its own advantages.
There is a way to make a handsome living successfully out of freelance writing and eventually, you can start your own agency. For inspiration and idea, you can read the story of Julia McCoy
To start with, you need the basic marketing skills. But even after that, you need some substantial skills that can gain you profit in the long run.
Below is a list of 10 tips to get freelance work in content writing.
These tips are designed according to preferences of multiple content writers with the dedicated establishment in the industry.
1. Exploration:
If you want good gigs, you must know how to explore.
Exploring the authentic sites is good but keeping an active track is also important.
Most of the people start off good but when it comes to the continuation, they give up. It is the gigs that make a real difference.
If you can successfully crack down big gigs, half of your work is already done.
2. Register with multiple agencies/portal rather than one:
A limited approach means that you are limited by options. When it comes to other contributing factors, approach plays a big role.
One website with one target is good but trying luck on multiple websites are better. Never put all your eggs in a single basket.
Freelancer is largest and the most promising service provider for content writers.
Trying your luck for sites like Upwork, Fish Talent etc with your writing is good as well.
3. Leveraging the power of Social media:
I think social media is one of the most promising approaches for an easier communication. You can join different groups, communities and you can even create your own fan page/group which can help you in many ways in the long run.
If these platforms are used prudently it can help you in many ways from reputation building to get a lead. Consider LinkedIn, FaceBook, YouTube, Instagram and Pinterest etc.
You can join our groups to see how we leverage the strength of the social platform.
The rates are not that high there but if you are looking for something in bulk, that is actually the place that you should look for.
Remember, you should always set your price bars legit. Once you lower them down, it is not easy to get it up.Read this blog to Gain expertise in time and cost estimation.
4. Delivery and Commitment:
Let us be honest here. when you are working with freelancer you know almost nothing about the person you are
working with neither his whereabouts.
The issue with these industry freelancers (imposters)  is that they are in a self-destructing mode just because of the concept of everybody can write.
These kinds of imposters fail deadlines, fail to deliver, they set their bar low and when they fail to deliver, they quit bringing a bad name to others also.
Here is the opportunity for you.
In one word if you can maintain professionalism and deliver quality content on schedule with high quality the competition is next to zero.
So the secret sauce is maintaining the quality delivery on time, Commit less deliver more and kingdom is yours.
5. Chose your work wisely:
Delivery and commitment are alike but not the same.
Someone with the understanding of commitment can never lose his job.
Content writing is a vast field and you may get an opportunity to work on different topics and domain but it is not wise to jump on the wagon about which you do not have any idea.
Learn to say No.
Don't opt for something that you don't know or you are not comfortable. Doing this may sometime backfire you.
Instead, try doing something that you already have a grip on even if the level is that of a novice.
Instead of making false commitments, it is better to make things that you already know how to excel.
6. Quality matters:
Newbie or trained, blogger or SEO expert, there is one thing that this industry never accepts. That's plagiarism. This can kill your freelancing journey.
If you let your work succumbed to plagiarism, it will actually be a matter of time before you hit the road.
Don't take more than you can handle. Instead, try to things that you can already maintain. Taking inspiration is always a good idea but the end of the day we are paid for original work.
Curate original content ask for the price you deserve.
Only plagiarism is not the issue poor grammar, spelling mistakes use of weak phrase can be the killer.
Learn the list of weak phrase you must avoid.
7. Focus:
Don't jump from one genre to another without prior planning and preparations.
Understand what you are good at.
Around 70% of the clients from your client base will be referred or returning client. So, in one word, reputation matters. Abruptly changing your genre may dilute your content depth and ultimately quality.
So, slowly and steadily learn the different art of writing like technical writing, business writing, proposal writing, marketing communication but before learning and becoming expert do not accept the freelance work.
8. Good Relationship and the network  is the key :
It is important what you know and it is more important whome you know.
If you want to get more clients, you must maintain your existing clients. Relationship with the client must be "OUR"
Try dividing according to the priority of their regularity in work.
If a client is providing you with regular clients, put him on the top. If there is a high paid client, he comes next. If there is both, he gets special attention. You do the math and retain the high-value client but do not ignore even a single client. It may cost you heavily.
9. Schedule Yourself:
A schedule is important. As a freelancer, we tempt to work extra hours and fail to maintain a regular schedule
It is wrong to think that by putting more time and effort, you can get success. It can cost your health and mental fitness.
It is actually the other way around. Change hard work with smart work. Invest in subscribing and learning new tools which can streamline your work.
Try maintaining a balanced schedule of both family and work. If you can balance that, you can balance anything.
Your schedule should also contain answering the mail, pitch for sale, customer call and meetings we often miss them.
10. Don't stop Learning:
Most of the people in the industry stop growing. The reason is they slip in comfort zone.
Remember, if security and comfort are what you look for, freelancing is already a very tough and wrong choice.
If you are growing in time, you are improving your odds against the Artificial Intelligence.
It is just a matter of time before the writers are taken over by bots. Do you know that Myntra's most of the content is curated by automation?
If you know how to create quality content as well as placing them with good SEO skills, this will work as a bonus.
Try that, don't get obsolete.
It's all about you being part of the system and the system being part of you.
Try maintaining a stable connection between earning and learning.
This is the only multitasking that you should consider doing.
No one in the world can help you reach your target other than yours.