Instagram TV Handbook
June 27, 2018

Posted by:

Rahul Karn

Category:

Content Writing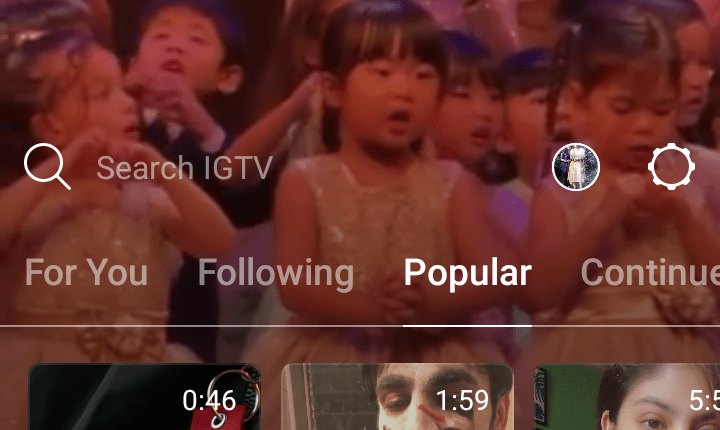 Instagram TV  (IGTV)- New entrant with a bang
Instagram TV  (IGTV)- New entrant with a bang. Yes, I mean it- Rahul Karn
Gone are the days when to watch the videos we had Television, after evolution we had access to videos on desktop and laptop. But the new generation is ahead of these means of watching experiences.
Every Content marketer video is the future and future of video is mobile.
The future of video is mobile.
There was a 40% downshift from the traditional watching experience on TV after it became easy to access it on phone.
Information developers Foundation Blog posts are read more on mobile than laptop screens. In the last 12 months viewership of our blog on mobile increased by 28% and this trend will continue.
This was not the case in 2008.
Instagram's new video platform Instagram TV is making news these days and the social media is going crazy about it. One billion Instagrammers are reaching out to explore the latest buzz, for a better mobile video experience.
This is going to be a new rockstar for the social media influencers.
Visit Rahul Karn YouTube Channel.
With any new advent comes a series of FAQs and here we are going to discuss most of the facts as per the latest update of Instagram and IGTV.
What is Instagram TV (IGTV)?
Instagram Television is a new feature on Instagram and a standalone app for giving their viewers a mobile video experience.
Now the question is, "what's new"?
Earlier Instagram had a video feature like Facebook but was limited to 60 seconds only. You can join our premium facebook group.
In IGTV this limitation has been weeded out. Now one can upload the video of up to 10 minutes and for larger accounts, it is up to 60 minutes.
Though Instagram TV is willing to remove this limitation in the future.
It is designed to give the mobile video experience to viewers and ultimately driving most of the mobile data traffic towards the mobile video. Recent researches show that by 2021, 78% of the mobile data will be consumed by mobile videos.
Instagram TV  is for vertical videos and this gives an added advantage of shooting videos from the phone and upload it without any hassle on IGTV.
This feature promotes the mobile-only experience because you need not tilt your phone for a full-screen vision, and it is definitely going to restrict the traditional TV experience to an extent.
The difference from other video platforms:
A genuine question that comes to mind is- what makes Instagram TV different from others?
It is not like Netflix but more like YouTube. You can upload video, view it, comment on it, like it, and share it through IGTV direct.
Now, the difference lies here.
It is only for vertical video. That means if you have to post any other video you will have to remain with the preferred aspect ratio or edit it.
This app gives mobile-only experience. You can record from your phone and upload it. No need for a professional camera.
At present no ads are displayed in between the videos.
There is no feature to monetize it for now.
Though videos can be uploaded as long as 1 hour but watching TV shows on it is still far to go.
IGTV focuses on following your favorite vloggers, and influencers.
Upon opening the IGTV app a video automatically plays just like TV but the sound is muted.
Future of Instagram TV
IGTV though started as any other video platform with few differences but in future, it may
• Appear as a career opportunity for those who make their living through videos.
• It may add the monetization feature for profit. (Are you interested in how to monetize your online assets? Read this blog).
• Be a strong competitor to YouTube though it is not right now.
How to create IGTV channel
Creating a channel on  Instagram is quite easy for those who are active social media users, but for a newbie, the steps are discussed below.
Before uploading a video you need to create a channel.
For this, you have to download the standalone app from Google play store on your iOS or Android.
If Instagram is already installed you can click the IGTV icon on the Instagram app.
1st step:
We can sign in with our Instagram account credentials. It automatically syncs with the account and you are in to explore.
2nd step:
Click the gear icon of settings on the middle of the screen towards the right.
Click the create channel button.
It's as simple as that. You are on to upload videos now.
To upload the videos you can go through these simple steps.
1. Click your Avtar from the main channel.
2. On the top right corner click the add (+) icon.
3. You will be given a choice to browse through your camera roll.
4. Choose a vertical video for the best IGTV experience as it is meant for that only.
5. You have to choose a title and description for the selected video. Write a relevant topic for the video, because in the latest update we don't have a search option for particular videos. We can only search channels.
6. You can also add clickable links to the description of the video that can take the user out from IGTV to your referred webpage.
7. Add a cover photo. You can choose it from the video too. Remember the cover photo needs to be vertical.
8. Now its time to post your video. Click post and you are there.
9. You can now answer to the comments on your video and view the analytics to keep a track on your video performance.
Click on the three dots (…) besides the like, comment icon and click view insights.
Here you have a list of received likes, comments, and views.
You also have the access to see the audience retention rate.
It gives you the data about how long your videos have been watched. How many people left it midway, and what is the average engagement on your post.
How Instagram TV works?
You can watch videos in the Instagram app, clicking the Instagram TV  icon on someone's Instagram profile, and in the standalone app of IGTV.
When a new video is posted by someone you follow, you get a notification on the native app.
Till now there are four categories for watching videos.
For You:
Based on your interest and searches Instagram curates a list of videos you may like to view. These may include videos of the person you follow and the kind of videos you generally search for.
Followings:
It is the collection of videos from your followings. You can get all the videos of people you are following. By just swiping you can go to the next channel and enjoy the viewing experience.
Popular:
This section is the collection of all the trending videos on IGTV app. Most popular videos are displayed here and are not limited to your interest and followings.
Continue watching:
Here is the list of videos you left halfway after viewing. You can resume your video, as Instagram helps you remember where you left.
Limitations of Instagram TV
Instagram TV is still in its infancy so there is a scope for improvement. According to the current features what may fall apart to affect its popularity is described below.
Vertical only videos-
IGTV has restricted itself for vertical videos only and that makes tough to upload whatever video we want to publish.
For publishing content that has been shot from a camera or in horizontal mode, a lot of editing is required.
A video uploader should now have to learn video editing too.
But the rotation of the video or the edited version would not give the best experience that we are looking for. For videos, we will have to maintain the aspect ratio of 16:9.
This feature can reduce the popularity of IGTV among social media users as they would not be able to share the same media on different platforms. An extra effort for IGTV upload will not be entertained by most of the social media users.
No monetization-
Earning money is always a driving factor for the mass popularity. Unlike YouTube, it is not giving the monetizing opportunity to channel creators.
Maybe in future IGTV adds this to help those who are feeding on video uploads but for now, it is unable to attract the public who are making a living out of it.
No search bar-
IGTV doesn't have a search bar to search a particular video with its name or hashtags. Only channels can be searched and surfed by swiping. This makes it tedious sometimes for those who are bored of swiping and searching for the relevant video they are looking for.
Till now you can create only one channel per Instagram account.
Let us know about your experience with Instagram TV in the comment section. Do not forget to watch interesting videos on our YouTube Channel
Conclusion
Instagram TV is going to change the people see the video now. Maybe in a couple of years.
Feel free to leave your comment and questions.