10 GIFs All Writers Will Understand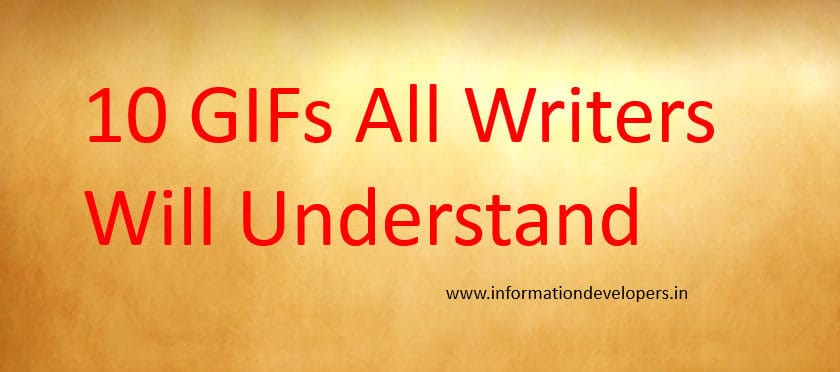 GIFs for writers

The two most engaging power of author are to make new things usable and familiar things new.
Being a corporate writer we thoroughly enjoy our work by taking everyday challenges in stride. Whether it is information gathering, review process, client feedback, meeting deadline, and our colleague's attitude.
Our passion and flair for writing keep us going also needless to mention EMIs have to play its own role.
In this post, I have tried to gather some Gifs for writers which truly depict our situation and all the writer can understand. Enjoy!!!
When you reach office and you come to know you will have to write a new configuration guide in next 48 hours. The important client is waiting.
Tip
Commit if you can deliver or talk to the concerned person and your manager. If you are following the scrum process try to find why this was not discussed in the planning meeting and raise the issue in the retrospective meeting to avert this kind of situation in future.
You can see this video to understand the Scrum Process.
Your subject matter expert refuses to give you time, the expert is busy.
Tip
Send the meeting invitations and reminders and if this becomes the routine. Try to identify the root cause and if required discuss with your manager.
In the Scrum process try to clarify all your doubts during planning and story elaboration meeting. You can see the video on how to interact with Subject matter expert.
During daily scrum or retrospective, your team indulge in technical discussion
Tip
Ask to park the topic to discuss after the meeting is over as it is irrelevant for you. You can raise the concern with the scrum master if this is happing regularly. Else, use two feet law 🙂
When you return after vacation and found tasks are piled up.
Tip–
Try to do prioritize your work and make sure you are always working on the highest priority task. Even under pressure condition do not compromise with the quality of your content.
When you release the document and then find the errors.
Tip–
Good writing is an iterative process, even after rigorous review this can happen. Looking at the severity of the issue take a call. You can make a ticket for your reference.
You are not able to writer perfect introduction in a couple of hours
Tip–
This happens with the writers. Sometimes we are not able to write even a single line in a few hours because of other distractions.
I personally like to write an introduction after finishing the complete topic. This gives me better understand the feature and help to write the powerful introduction.
When the next morning you find your customer made your document completely red
Tip–
Accepting the feedback is also an art. We should keep our ego aside while dealing with the feedbacks, comments etc. Few clients are polite and few are furious. Stay calm look at the comments try to find the reason, even they are valid or not. Try to avoid it in the future. Also, avoid conflicts and confrontations.
Remember no one is perfect.
When your manager fails to understand how much times it takes to write.
The output may be ten pages but I have to tear down four pages in the process.
Tip:
When your manager is not from the right background then they can have this kind of misconception. What is writing and anyone can write? You need to explain the complete content development lifecycle and the challenges involved rather than feeling like below Gifs.
via GIPHY
When you get an appreciation for your impeccable writing
Tip- Every individual love appreciation. Do not forget to enjoy and share your success with your others. After all, you have earned it and keep your good work rolling.
via GIPHY
When other take away your work credit.
This is a very common grievance you will encounter in the organization. Sometimes it is correct also. This is the characteristic of non-performing managers. In this case, you will have to keep patience wait for the correct time and then convey your ability and message to the right set of people.
See this Video to learn cool Animated GIFs, it is simple and FREE.
If you are new and want to know how to become a technical writer consider reading his handpick guide.