Learn RoboHelp- 2017 & 2019
Bonus- Introduction to Madcap Flare
Trainer- Rahul Karn
Date- To be announced
Time- 9:30PM-11:00 PM
For detail Syllabus call – 7428812804 or 7840841999
The outcome of the Course will be
You will be intermediate level expert of RoboHelp and can become expert after practicing for one month on any project.
You will be certified RoboHelp practitioner from Information Developers Foundation.
Added Benefits:
Access to private Library
Resume teardown
1-1 counseling with Rahul Karn
Interview question of RoboHelp
Certification from IDF
You can watch Introduction Video of RoboHelp 2019 on our Facebook group.
NEWS- Adobe Release Technical communication Suite-2019
Adobe released a new version of the technical communication suite. Last week I was introduced to it in a partner program and found it impressive. A lot of improvements are in the FrameMaker. Hopefully, this release will be a game changer for the Adobe and will make the life of technical writers easier. Professional writers will be able to generate output fast and will able to produce more customized content.
Use this link to download free tail, join webinars and find yourself what is new in this release.
It was fun to be the part of AdobeDay 2018 at Bangalore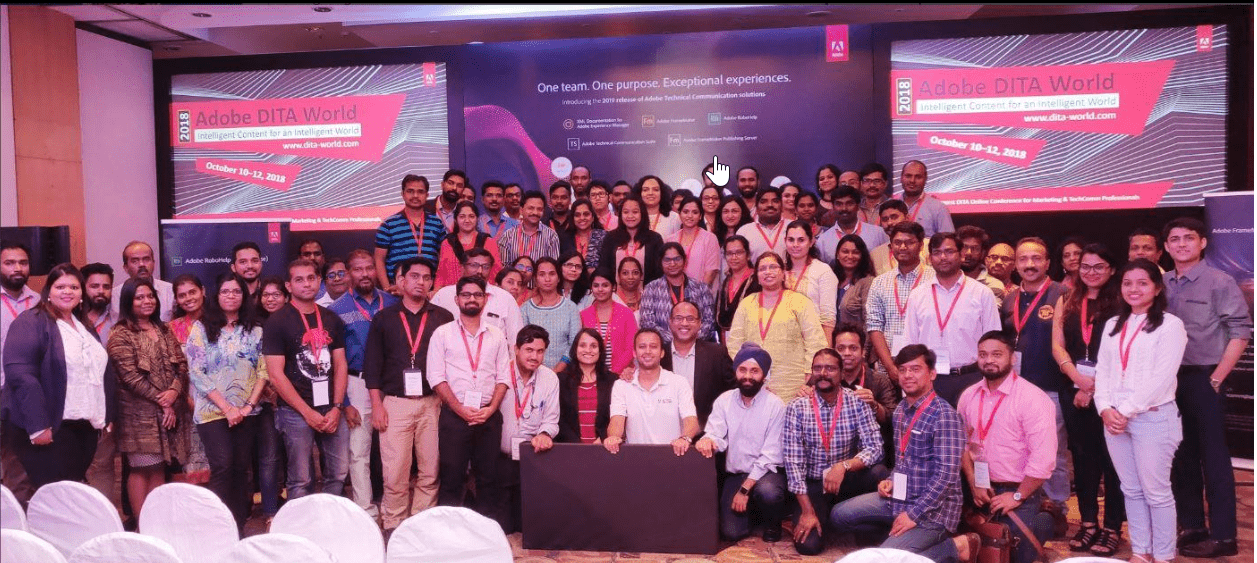 What is a help authoring tool?
A Help Authoring Tool or HAT is a software tool used to create, manage, and publish all Online or Offline business-critical documentation.
Example of HATs- Adobe RoboHelp, Madcap Flare, AuthorIT, HelpNDoc, etc.
Basic features of Help authoring tools
If you are new to the field of technical writing, consider reading our introductory guide for technical communicators.
Input
Help authoring tools obtain their source text either by importing it from a file produced by another program or by allowing the author to create the text within the tool by using an editor.
File formats that can be imported vary from HAT to HAT, though they can include such formats as HTML, OpenOffice Writer, and Microsoft Word, and compiled Help formats such as Microsoft Compressed HTML.
Output
The output from a Help authoring tools can be either a compiled Help file in a format such as Microsoft Compiled HTML Help (*.CHM) or non-compiled file formats such as Adobe PDF, XML, HTML, JavaHelp, EclipseHelp and so on…
 Help authoring tools Beyond Help
Most help authoring tools provide extra functions such as:
 Automatic or assisted Index generation
 Automatic Table of Contents
  Why do you need help authoring tool?
Authoring and content reuse.
Reduce Authoring time & Cost.
Importing and Publishing.
After a document is finished, reviewed and approved, we can quickly produce:
Print/PDF
Web (Context Sensitive help)
Help
XML
DITA
List of Help authoring tools
I can bet you will be surprised to know that in the market there are more than twenty help authoring tools providers.
How many of them do you know, try to recollect the name before you proceed?
Here is the list of more than 20 best help authoring tools :
         One of the best tools, recently RH-17 is released. This is one of the most widely used help authoring tools.
You can watch the latest RoboHelp capabilities on our YouTube Channel.
MadCap Flare-Respectively new to RoboHelp, but equally effective.
AuthorIT– This component authoring tool is a robust alternative to RoboHelp.
HelpNDoc-  This is free for personal use. Now part of Madcap Flare.
HelpConsole
HelpServer
Help & Manual
HelpSmith
HelpScribble
HelpStudio
Doc-O-Matic-  Version7 is available. I have used this tool for writing API tool, later switch to swagger.
FarHTML
Help Generator
HyperText Studio
HelpMapper
Precision Helper
Sandcastle-    It is a documentation generator from Microsoft that automatically produces MSDN style reference documentation.
Shalom Help Maker
Helpmatic
Whatfix
If I'm missing any help authoring tools, kindly let me know.
Unbiased Comparison of  Help authoring tools
A downloaded trial version of all four software packages (RoboHelp, Flare, Author-IT, and HelpNDoc).Compared and evaluated them based on several factors including my personal experience with the program; program size; learning curve; user interface and usability; and bug encounters.
Learned and compared features
Match with our requirements, resource, and expertise
Ask for demo and price quote
    Comparison Brief
Before Comparison get sure your parameter because there are many parameters to compare like context-sensitive help, content management, Import feature, support workflow, price, hyperlinks, single sourcing features and more….
One of my clients, he was majorly concerned with the Simple features, Price, and support.
    Recommendation:
After reviewing the four programs, I recommend Adobe RobrHelp.  The easy user interface and excellent tutorial were by far the best of the four tools I used.
It is easy to use, cost-effective and people are willing to sell it, and I found Adobe very prompt in replying mail and solving quires. Adobe sponsors and hosts a lot of webinars for information sharing.
Like any tool, it can be learned and used. A lot of free resources are available. Finding and hiring RoboHelp expert is never a challenge.
You can learn more about the HAT comparison.
Which authoring tools do you need?
You are the perfect person to answer which tool is best for you. Before jumping to the conclusion or asking anyone about the best HAT, please do keep these things in mind.
About Your Authoring Environment 
1. What operating system do you use?
2. How many authors are–or will be–working on the project?
3. If the content already exists, what format is it in– (i.e., Word, FrameMaker, HTML)?
4. Do you use any  Help authoring tool(s) y?
5. How familiar are you with HTML, CSS?
6. Do you have any budget constraints? (i.e., how much can you spend on a help authoring tool?)
About Your Help System: 
1. How will the Help be delivered? Will it be printed, installed locally on users' machines, or delivered on the Internet or enterprise intranet?
2. Do you need to deliver your content in multiple formats–for example, print or PDF and HTML Help?
3. Do you have any special look and feel requirements?
4. Do you need to create context-sensitive Help?
5. What operating systems do your users use?
If you identify your need, you will be able to choose your dream tool for online authoring.
Learn RoboHelp by yourself
RoboHelp is a very user-friendly tool to author and publishes in multiple channels. It is evolving with every new release. The time this blog was written Rh11 was the latest in the market.
I find some useful resource while learning RoboHelp.  Sharing it with you. Hope it will make your learning easy.
I have removed a few sites. Unfortunately, legends are retired now. (Updated on 21/8/2018). Peter is also retired, but he maintains his website.
Map IDs in RoboHelp11
If you have Map IDs and not able to test it. RoboHelp provides a wonderful tool to check it. 
What is Map IDs All context-sensitive help files have each help topic assigned a Map ID number?
The application developers integrate that ID into the application so that when a user presses the F1 button in a topic screen, the application reads the Map ID of the topic and displays the correct topic that corresponds to that Map ID number.
Question: Before giving it to the developers how would you know if your Map IDs are working in a help file; if they are appropriately attached to individual topics and are pointing at the correct topics?
SOLUTION: RoboHelp has a feature (tool)l for that called CSH (Context Sensitive Help) Test tool.
To test Map IDs
1) Open the Toolbox by selecting View > Pods > Toolbox.

 2) Double-click CSH Test icon to display the Context-Sensitive Help Test Tool dialog box.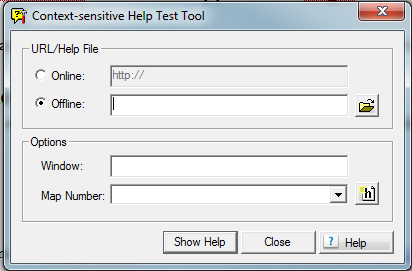 3) Browse and select the CHM file you have generated earlier (for Offline files). If your help file is posted online, then enter its URL in the Online box.
4) (Optional) Enter a Window name.
5) Click the map file icon and select a map file.
6) Click the triangle and select a map number.
7) Click Show Help.
If your map IDs are correctly attached to the individual topics, a window will open and display the correct topic for that Map ID number.
Authoring in MadCap Flare and Importing track change in PDF/Word output 
In my new organization, we were writing in the MadCap Flare v10 and generating PDF output and sending it for review, for testing, development, product management, customer support, and security team.
We send out the second or third version of an existing document for review. The doc is 200 pages long and does not tell reviewers what have changed since the first version… uff!
Challange was to convey to them the exact changes and places where the changes needed to be done.
It was simple for me, to keep track change  ON. I did it, but unfortunately, when I generated the PDF, track changes were not visible.
I checked all the possible options available but no luck. After research on google, I was able to make the similar feature that was introduced in the MadCap Flare v12.
I contacted my fellow technical writer who was using Flare v12. Then we were able to do it.
This is simple to do and compelling feature of the review process.
How to preserve track change in Flare v12.
In the Project Organizer, open the Target for PDF or Word.
Select the Advanced tab.
In the Output Options section, select Preserve tracked changes.